Filter the content using the categories listed on the left of the page to find blogs, news, updates for challenges and how your ideas are being put into action.

Categories
Why occupational therapists are the vanguards of a sustainable health and care system
Anyone who knows me well, or has heard me speak before, will know that I place enormous value upon community health services and the role occupational therapy plays within them.
It's not a huge revelation that patients prefer to be treated closer to home and Occupational Therapists play a critical role in making this possible, practical and desirable.
The work they do to prevent hospital admissions, reduce GP appointments and enable safe transfers of care out of hospital, make them vanguards in the bid to create a sustainable health and care system for generations to come.
Prevention, integrated care and personalisation are recurring themes throughout the NHS Long term Plan – and so they should be.
Occupational Therapists form much of the connective tissue between these areas, building therapeutic bridges within and between acute services, community health, learning disabilities and mental health – throughout a person's lifespan.
The Long Term Plan commits the NHS to deliver more care closer to home over the next 10 years. At least an extra £4.5 billion pounds a year by 2023/24 will be invested in primary care and community health services.
This is the first time in the history of the NHS that real terms funding for primary and community health services is guaranteed to grow faster than the rising NHS budget overall.
This tells you just how much faith government – and our sector partners -– place in Occupational Therapists and the wider web of care they support.
It's clear that occupational therapists have a wide range of skills and specialisms at their disposal to deliver many of the goals of the Long Term Plan, as indeed they do for the adult social care green paper.
Now, I am as frustrated as you are at the delays to its publication, but when it does appear, it will reinforce our ambition to make prevention, integration and personalised care 'business as usual' within the next decade.
For example, I see a crucial role for Occupational Therapists in supporting the health and wellbeing of informal carers, not just those receiving statutory care services.
The green paper won't be a panacea for all the shortcomings of the present system, but as the number of carers rise – a consequence of an ageing, growing and diversifying population – your insights and support will be invaluable.
I really believe the best is yet to come for this profession, as many more people – service users and other health and care professionals – realise Occupational Therapists are not an optional extra or add on, but central players in the care, support and rehabilitation of our citizens.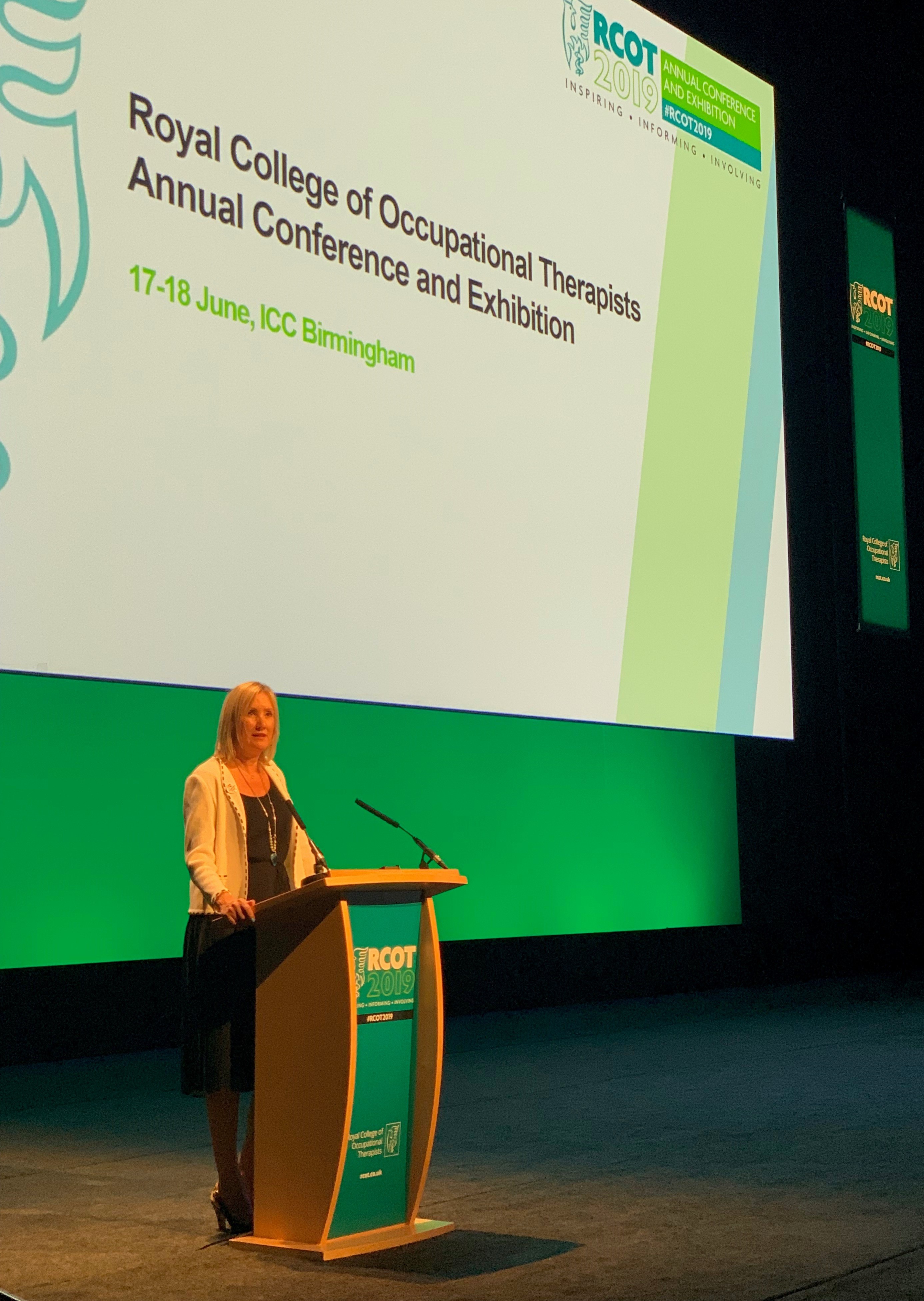 This post was edited on Jun 18, 2019 by (Account removed)
Comments (2)
Really pleased to read your blog; your enthusiasm and commitment is wonderful. My daughter is a newly qualified (masters) Occupational Therapist and will be starting her new post in November. The thing that makes me happy is that she is already talking about doing a PHD in the not so distant future. This is definitely not viewed as an "add on" career; or an "optional extra" however, I do feel that Occupational Therapy needs better understanding, better promotion through schools, colleges and universities; and defiantly  government, as they seem to be the ones with the least understanding of what this role offers.
I found out how little the government departments understood when I was trying ( without success) to access extra funding for my daughter while she was studying as her bursary simply did not cover everything, she was trying to fit work in around her studies and she was finding it financially tough; rent was the biggest issue.
Somehow she kept that enthusiasm for Occupational Therapy and is still looking positively towards to future.
San. P
I really read this precious information It was a good quality post and I thoroughly enjoy the way you present this topic. We are hopefully waiting for this type of posts, I would like to suggest Knownhost Coupon Codes where you can share this type of post separately.
Comment reported Pending moderator review
SIGN IN or REGISTER NOW to join the discussion