Filter the content using the categories listed on the left of the page to find blogs, news, updates for challenges and how your ideas are being put into action.

Categories
Speaking Up - how far we have come
I'm Alison Bell, Freedom to Speak up Guardian for University Hospitals of Derby and Burton NHS Foundation Trust. I'm passionate about our NHS and really believe it's one of England's best institutions. However, I know that as with all big organisations sometimes things go wrong.
Having spent time on site as a Union rep between 2001 and 2007 at Mid Staffs I have personal experience of what happens where staff don't feel safe to speak up and where their voices are not heard. There were some very dedicated staff working during that time and yet they were unable to deliver the care that was needed.
Having that personal experience meant I was very interested in becoming a Freedom to Speak up Guardian when the role was created. I was appointed to the role in January 2017 to Burton Hospitals NHS Foundation Trust and at that time was also asked to cover Derby Teaching Hospitals NHS Foundation Trust as the two Trusts were planning to merge.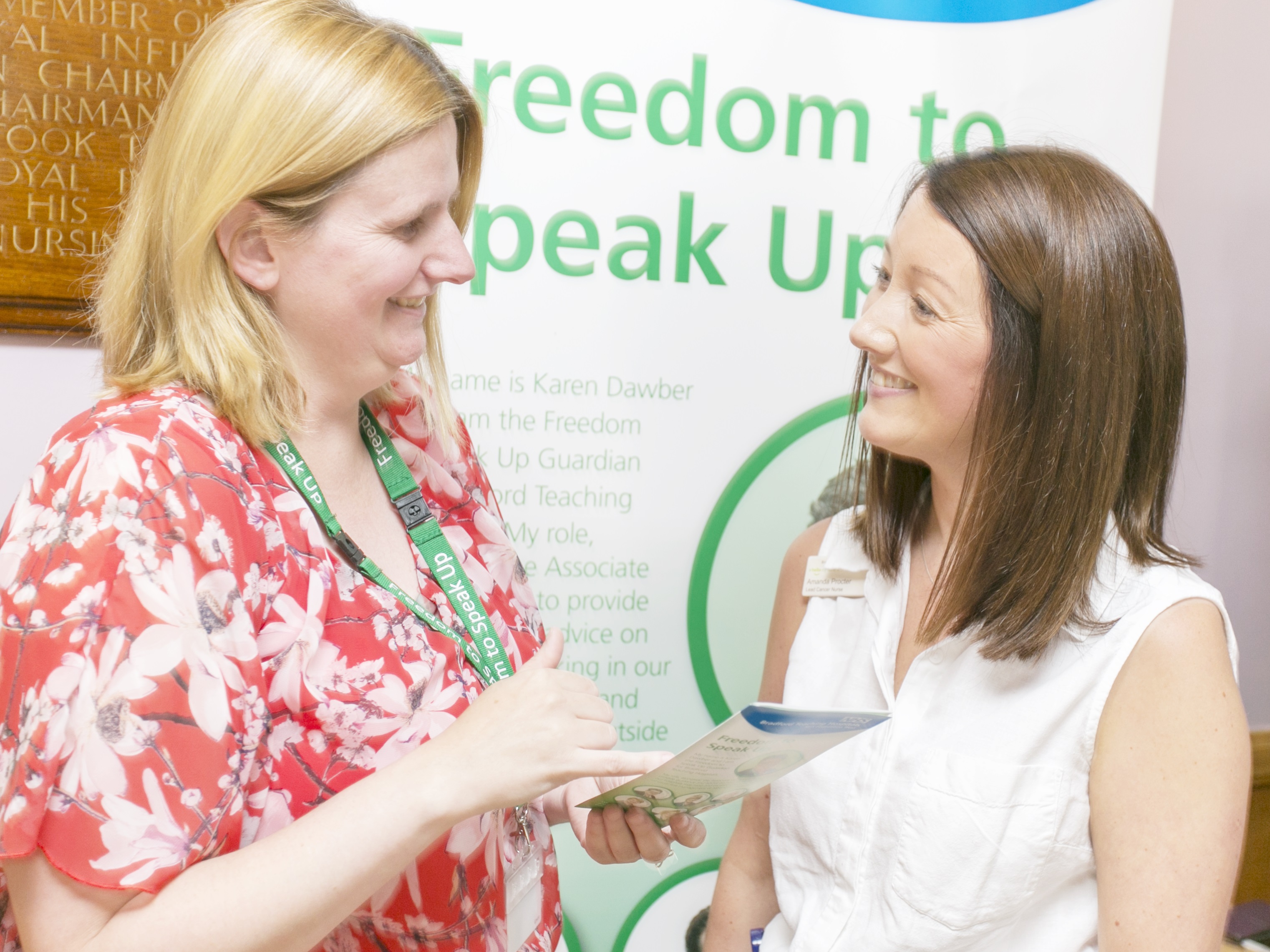 I'm really proud that both Boards recognised the value of a supportive speak up culture throughout the merger process and chose to appoint a shared Guardian to help develop this. When I started as a Guardian the initiative was still very new and the main challenge was to spread the word – across two Trusts, covering five very different sites.
It was also really important to build effective and supportive relationships across the Trusts. I recall there was some trepidation when I started as to what Freedom to Speak up would mean – was I coming in to increase blame and look for faults? Building those relationships has been so important.
If my time at Mid Staffs taught me anything it's that when we look to blame others it doesn't end well. It leads to more cover ups, fear and stress for all involved. When I look back on those early days it's amazing to see how far we have come.
The merger, as with any large organisational change, has caused challenges to our staff but all along we have tried to keep the focus on the benefits its bringing our patients. However, we are only human, so some staff still had issues they wanted to speak up about and the fact that we had already merged the guardian role has, I believe, reaped rewards.
When our staff have spoken up about issues linked to the merger I have known exactly where to take them, the supportive relationship is already there and at a more senior level the Board has been responsive to taking actions.
Since I started as a Guardian I have received 303 Speak up cases covering a huge range of issues, but every single one of them is important to the staff member who speaks up. I'm proud to say that some of these have had a real impact on changing the environment for staff and even more improving the care for our patients.
The largest number of cases have been related to bullying and harassment, unfortunately a common theme across most trusts. As a trust we are currently looking at how we can respond to these types of issues faster, with compassion and more effectively as formal cases are time consuming, can be stressful and don't always have better outcomes than doing something more informally. Its certainly safe to say that no day is the same. I can be meeting someone off site at a local coffee shop one minute and then the next attending the Board meeting to deliver the Freedom to Speak up report.
I think one example that has stood out for me involved a nurse coming from a high profile clinical area to speak up about some concerns with patient care. This involved issues with medicines management, information governance, lack of appropriate equipment and the layout of the clinical area. After meeting with the nurse off site she agreed that she would come with me to meet a Nursing Director responsible for the area. She was nervous as she was due to move to a new area of work and worried in case this would impact on her move. It didn't. The Director put her at her ease, listened to her concerns and agreed the next steps with us. Some of the concerns, particularly governing the medication were rectified immediately.
One concern was regarding the pathways for treating paediatric patients. A new pathway was designed to increase input from the paediatric nurses and this was implemented within three months. Some took much longer, like improving the layout of the area, but the whole department has now been updated resolving the visibility issues.
Throughout the process I was able to let her know what was happening and why some issues were taking longer to resolve. The nurse moved on to her new role and is now also a Speak up Champion due to the 'fantastic support she received at a very scary time'. This is only one of many examples where I think staff having someone to come to they can trust is making a real difference.
As is clear by the numbers of staff who do speak up this is a busy role. I have 20 Speak up Champions from all five sites who support me with getting the message out there and are a great listening ear for others wanting to speak up. I know we could always do more, but there never seem to be enough hours in the day. I am privileged to do a stand-alone role as a guardian, so everything I do is dedicated to improving our speak up culture for staff and ultimately giving our patients the safest care we can.
In addition to being a guardian, I am proud to say I am also the Chair for the West Midlands Network of guardians. We are a brilliant network of guardians who support each other and we're always on the phone sharing ideas or offering a listening ear. We are also like a hive mind – between us we have some amazing initiatives on increasing awareness and we are also good at sharing how we have resolved complex issues.
We meet as a network every quarter, so as chair I will organise this alongside my deputy. We always try to ensure our network meetings are a mixture of information-sharing and peer support. This can be an isolating role at times, so we all try our best to be there for each other.
Overall, I think this is a fantastic role which really is seeing some tangible benefits. It isn't easy but who said changing culture was?
SIGN IN or REGISTER NOW to join the discussion