Filter the content using the categories listed on the left of the page to find blogs, news, updates for challenges and how your ideas are being put into action.

Categories

Every day, in every part of the NHS, you find acts of extraordinary compassion and breath-taking dedication underpinning the clinical expertise which makes our NHS staff amongst the best in the world.
It's measured in the small gestures – the reassuring words of a porter, or the nurse staying with an anxious patient beyond their shift – as much as the big moments of heroism, and it speaks of the strength of vocation that holds the NHS together.
Quite simply, the people who work for the NHS are the NHS. They care for us magnificently – and it is only right that we care for them too. But this isn't always the case.
The challenges of working in healthcare are considerable – and, in some cases, have tragic consequences.
I've been profoundly affected by the story of Lauren Phillips, a talented young doctor who went missing last year after working in a NHS hospital. Her father Jonathan has described an insidious culture that "succeeded in sapping Lauren's strength, undermining her self-confidence, attacking her professionalism, and devaluing her commitment". His verdict on the NHS is as straightforward as it is damning: "it was not there to give her the help and support she needed to stay alive."
What I take from this tragedy is a deep sense of resolve to change the culture and a determination to build an NHS that truly values its people. We need to challenge the culture of carrying on regardless, not asking for help, not looking for signs of burn out among our colleagues and thinking everything's okay as long as the person turns up for work each shift.
And yes, that means looking at the big solutions – addressing the inflexibility in rota planning; and recruiting and retaining the NHS workforce in sufficient numbers. These are fundamental parts of our long term plan for the NHS. As a first step, we have set out ground-breaking proposals which I hope will help people like Lauren in the future.
These include comprehensive post-trauma support to help medical teams come to terms with traumatic incidents, a 24/7 confidential mental health advice service, and priority access to mental health referrals. We will also look at ways of improving the working environment, including making more quiet, comfortable places available for overnight staff to rest.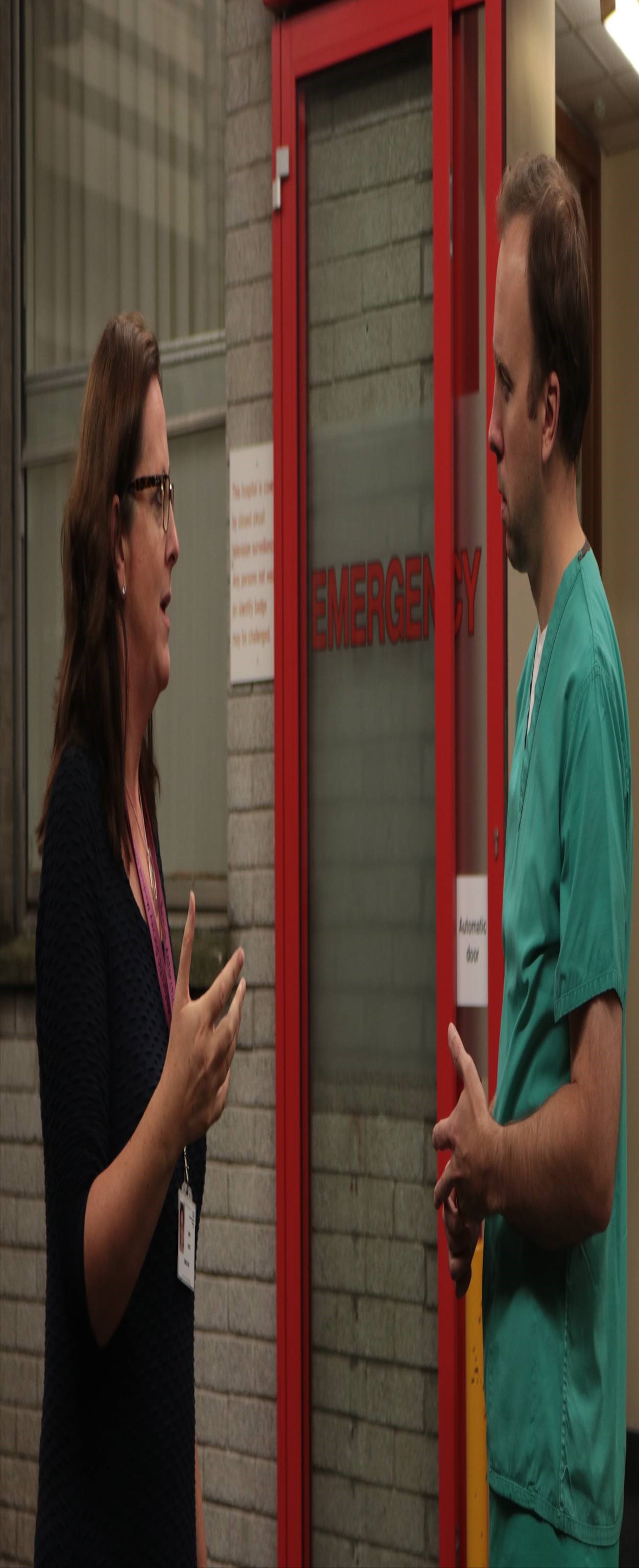 I care deeply about the NHS and I will do everything in my power to pass on this great British institution to future generations in a better condition than I found it.  And that starts by caring for those who care for us, and making sure that whenever somebody needs help, there's someone they can turn to.
The approach I have set out is just the start of a journey to make the NHS a world class employer. Frankly, it is the least we can do for people who offer so much.

More than 1.45 million people currently work in the social care sector across the UK and according to the government 650,000 more care workers will be needed by 2035 due to our ageing population. Although social care is one of the most rewarding sectors to work in, there is an ongoing challenge of recruiting and retaining care staff within the industry that all providers like ourselves face.
At Bluebird Care, we pride ourselves in delivering quality care to customers that help them to remain in their own homes. We could not deliver this service without our valuable care assistants, and so it is incredibly important that we offer them an enjoyable, varied and rewarding career. Creating a strong company culture and investing in training and development are two important ways we hope to overcome the challenge of recruitment and retention.
Our company culture is built upon strong brand values that guide every member of the Bluebird Care team in everything they do, every day. They create the basic building blocks of how we want others to see and judge us, including prospective and current team members. For prospective employees, we want them to be inspired by our brand and excited about the possibility of working for us. For current employees, we want them to feel proud that they are part of an excellent team that makes us a leading home care provider.
Finding and keeping the best care assistants is key, so we offer excellent support and the opportunity to develop our employees to reach their full potential. All our staff receive regular supervision and ongoing training to enhance their existing skills and learn new ones. There are a wide range of training areas including dementia care, end of life care, mental health and more. We are passionate about promoting from within, and so our care assistants have the opportunity to develop and grow within the business, and can work their way up to supervisor, care manager or even run their own business as part of our franchise network.
The new 'Every Day Is Different' campaign truly encompasses the rewarding nature of care work and we are proud to be working with the Department for Health and Social Care to help promote the incredible roles that are available within the sector. Through the use of social media, Bluebird Care have been spreading campaign messages to raise awareness of the benefits of working in social care. Our care assistants are at the heart of what we do, and so we were delighted that two individuals from one of our care teams were invited to a photo opportunity at the houses of parliament with the Minister of State of Care Caroline Dinenage. Please unite with us and let's help to show the world how incredible a career in social care can be, by promoting #EveryDayIsDifferent! 

Staff like you are the heart and soul of the NHS – an organisation which is rightly one of this country's proudest achievements. Over a million people rely on its services every day.
Yet the numbers are rising and our growing ageing population presents an unprecedented challenge to its hardworking and dedicated staff.
This week we have launched the Long Term Plan for our NHS. A comprehensive set of proposals, which will ensure it does not just meet this challenge, but secures the NHS for future generations to come.
Any plan for the future of the NHS must be backed up by more money. That's why earlier this year the Prime Minister announced the largest funding settlement in the history of public services, increasing the budget by £20.5bn a year by 2023/24. 
The bold and ambitious plan is the product of thousands of conversations with our clinicians, patients and the public right across the country to focus on the priorities that matter to us all.
The Long Term Plan will grow and better support you, our hardworking NHS staff, and invest in new technologies to bring the NHS into the digital age – making it fit for the future.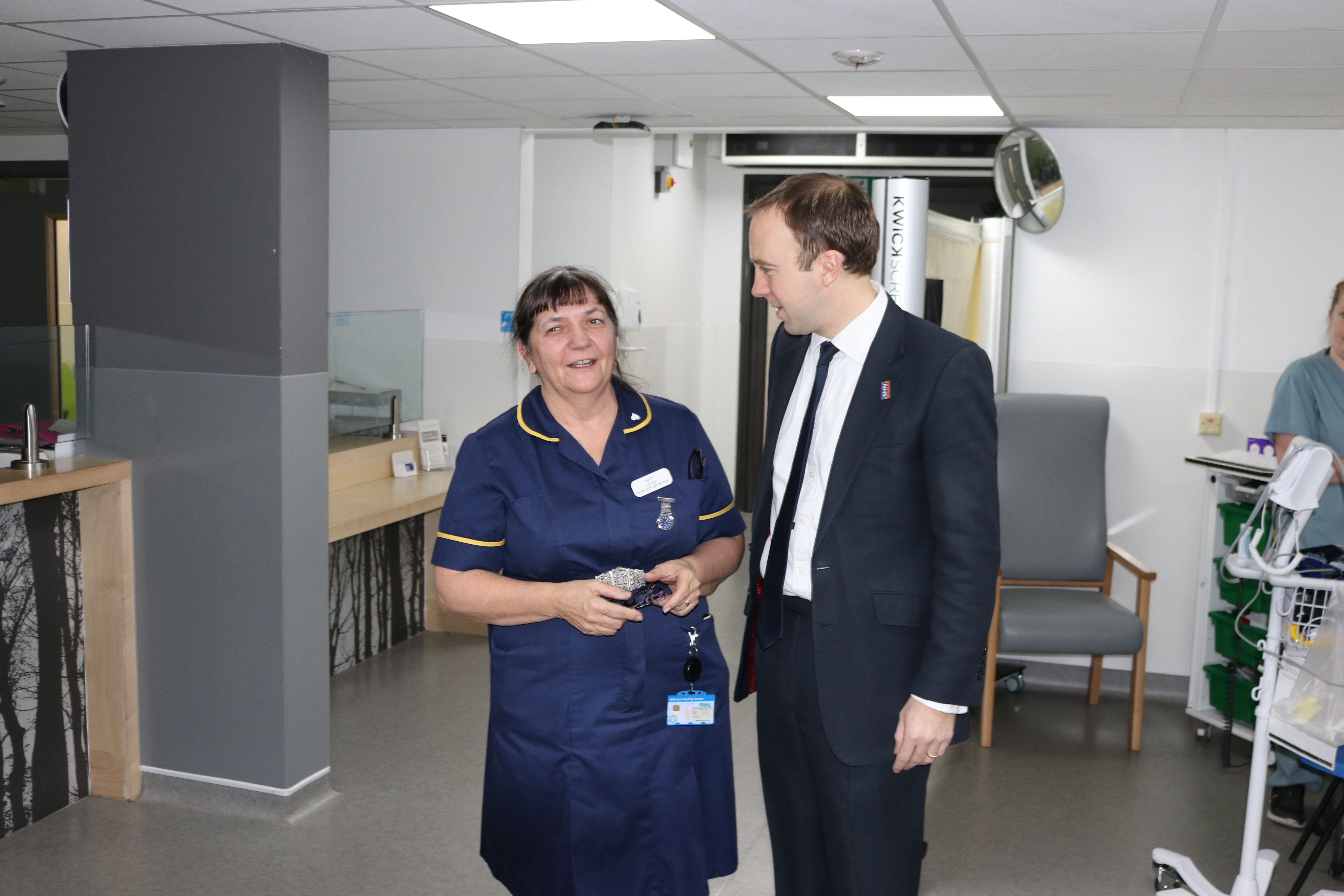 There will be a new focus on prevention, personal responsibility and promoting good health, and more rapid diagnostics and new treatments will improve your care.
In essence the plan will ensure everyone from the beginning to the end of their life will get the best possible support.
Every baby will get the best start in life as we revolutionise maternity safety and new parents will be supported with better recognition of symptoms and access to mental health services.
It is a tragedy that our children growing up now are more likely to be affected by poor mental health. That's why our plan will see more support for children in schools, faster waiting times for specialist therapies and improvements in how children are looked after in hospital. 
We must take better personal responsibility to prevent ill health throughout our lives. There will be better and more targeted screening and a clear shift towards promoting good health, not just curing illness. We will improve detection, introduce more targeted screening, and build Rapid Access Diagnostic Centres so you can get a diagnosis quickly. We will fund new treatments and technologies such as genomic testing to personalise treatment.
And we will support people to age well – bringing teams from across primary and secondary care together to make sure older people get the support they need to remain independent in their home for longer, avoiding unnecessary stays in hospital.
You, our hardworking NHS staff, will be able to grow as a workforce, as we support opportunities for thousands more doctors, nurses and other health professionals, particularly in mental health, primary care and community services.
We will create a better working environment for you, our NHS staff, with better training, support and career progression and action taken on bullying and violence to ensure our health service has the staff it needs to care for you and your family.
Our Long Term Plan will ensure the NHS continues to be there, from cradle to grave, free at the point of use, based on clinical need and not ability to pay.
I will always champion this, and the hardworking staff who continue to be dedicated to making this happen.  
A health service and workforce that can look to the future with confidence and hope.
 *** To leave your comments and ideas join the challenge here ***

Two months ago I wrote about the need for NHS and adult social care staff to help save more lives by getting their flu vaccine ahead of this winter.
This crucial vaccine helps protect staff and those they care for from catching what can be a serious and sometimes life-threatening virus.
As we head towards winter, I'm taking a moment to reflect and review on how engaged staff already are with this scheme and how, together, we can increase vaccine uptake even further. 
The latest figures show that during September and October 46.3% of NHS healthcare workers took up the flu vaccine offer – that's roughly 6,700 more staff than in the same period last year.
It's positive to see that more NHS staff are getting their flu jab earlier; and I hope this puts us on a good course towards achieving our vision for 100% of frontline health and care workers vaccinated.
Although there isn't much flu about yet, we can't be complacent. We need to encourage the 1.47 million social care workers in England, who can access the flu vaccine from their GP or pharmacy for the second year running this winter, to get theirs too.
We know that people aged 65 and over are more vulnerable to the complications associated with flu. That's why social care workers taking up their free vaccine is vital and can help to protect this vulnerable group. Up to 50% of flu infections are asymptomatic, which means that the infection is easily spread without realising.
I want to ask you – our hardworking health and social care workers – to continue to promote this vaccine to your colleagues and to let me know in the comments section below what you think we could be doing differently to help inspire people to get vaccinated.
Are there barriers to you getting the vaccine in time that we need to know about? Or perhaps your care home is very good at helping staff get vaccinated and you'd like to advise us and the NHS workforce on the practical steps you have taken.
By staff taking up their flu vaccine they can help save lives, so we need your help!
To find out more about the flu vaccine visit the NHS Employers website, where you can also download digital resources such as: campaign planning guides, evaluation guides and a communication toolkit.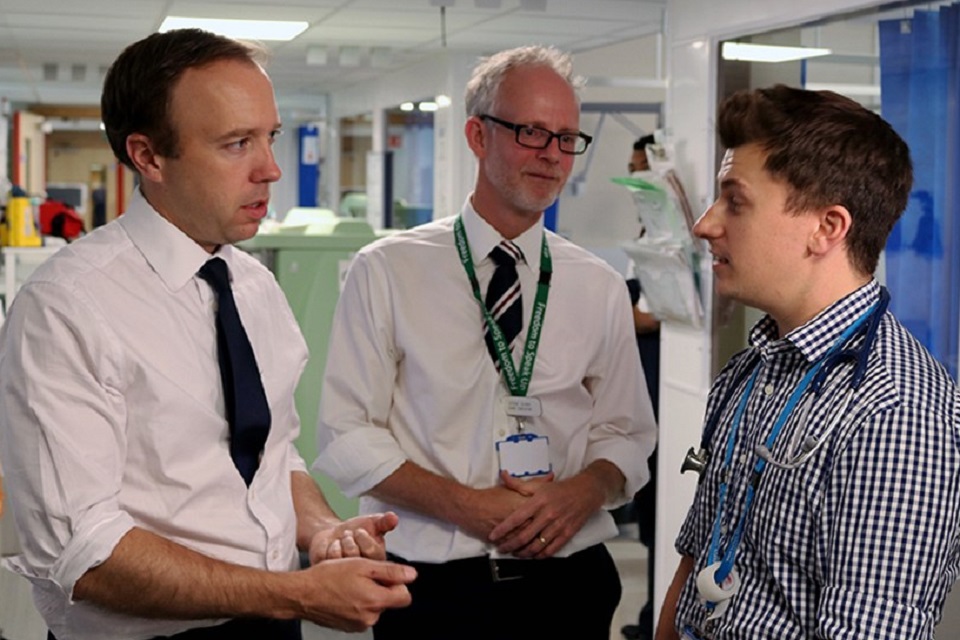 As soon as we come into contact with the NHS, most of us can be confident that we will get compassionate, high-quality care from hardworking staff who have trained for years to be some of the best in the country at what they do.
They know how it works and they know what patients want and need. But too often, their many years of vital experience doesn't inform the way the NHS is run, with too few clinicians making the move into NHS leadership roles.
Some have done it with great success - Professor Jane Cummings at NHS England;Dr Nick Broughton at Southern Health; Professor Marcel Levi at UCLH.
Another is Dr Sonia Swart, Chief Executive of Northampton General, who firmly believes clinicians have a key role to play in always being aware of the need to improve the systems of care in which they work.
But there must be something stopping talented people, who possess the qualities great leaders need, from rising to the top.
A review by the Faculty of Medical Leadership and Management has identified a number of barriers for clinicians considering senior leadership roles in the NHS – a lack of a clear career path into leadership roles; a lack of exposure to management and leadership responsibilities; and the perception that being a leader and being a clinician are "incompatible".
This has to change.
We want clinical staff to use the invaluable experience they've gained on the frontline to drive forward progress at departmental, trust and national levels. To instigate this new approach, we will be identifying the best ways to support staff who want to be on a pathway to senior leadership, as well as providing guidance for easy ways for all staff to engage in leadership activities.
We want this mindset to permeate throughout every level of the NHS. From day one of a junior doctors' career to the retirement of the most senior nurse, they should be encouraged to think about leading from the front, driving a culture of innovation and striving for better processes at every turn.
As a result, undergraduate and postgraduate education will have a new focus on leadership qualities, enabling clinicians of tomorrow to embrace this new mindset today.
This isn't about creating more management roles – it's about making sure those on the frontline know decisions from the top are thought-through, well-intentioned and informed by years of practical, front-line experience.
We need the right mix across the NHS leadership community, combining frontline clinical knowledge and experience with leadership skills and vision to benefit the whole team, benefit the NHS, and benefit the nation.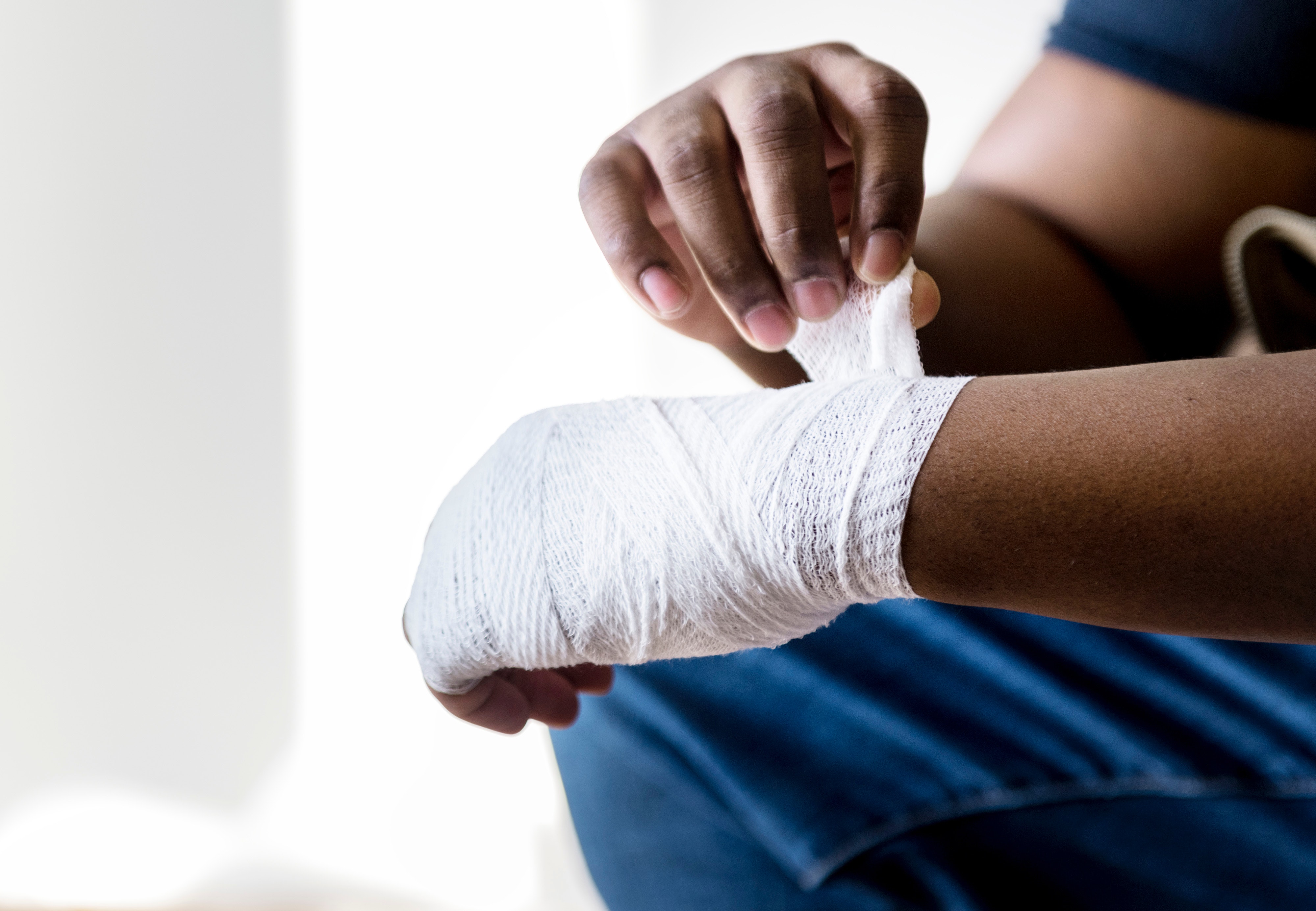 Kim Sunley is National Officer at the Royal College of Nursing
Last month the Royal College of Nursing ran a summit on tackling workplace violence in the NHS. The summit focussed on the new Assaults on Emergency Workers (Offences) Act 2018 and along with hearing examples of good practice on supporting staff following assaults, the RCN shared data on the extent of workplace violence in the NHS. 
The report made interesting reading, but to paraphrase the epidemiologist Sir Austin Bradford Hill "statistics are people with the tears wiped away" and perhaps the most sobering part of the event was hearing from nurses and other emergency workers who had been assaulted.
Whilst physical scars and injuries heal over time, the emotional scars can take much longer to heal and affect both work and life outside. 
We were delighted that Matt Hancock, Secretary of State, joined us at the summit and welcomed his announcement on addressing violence against staff as a step in the right direction. 

We have always been clear that the Act is just one measure and that there needs to be more focus on prevention, be that through safe and effective staffing, design of environments and appropriate training for staff.  We must also be aware of all the environments healthcare staff work in, including the community. 
 The causes of violence in healthcare can be complex so data collection is key, not just the number of assaults, but what type of environments they are happening in, what time of day and information on the perpetrator, so we can target interventions.  
One issue that can be addressed quickly and without the need for major investment is the level of support that is given to nursing staff who are assaulted. Sadly this can all too often be found wanting. The culture of accepting it as 'part of the job' needs to change.  

At the summit we heard from organisations who had tackled this head on with a case management system and the Police Federation's seven-point plan, which calls for police officers who are attacked to be treated like any other victim of assault.  
We look forward to working with the respective system leads and key stakeholders on this issue and making a difference to the working lives of nursing staff.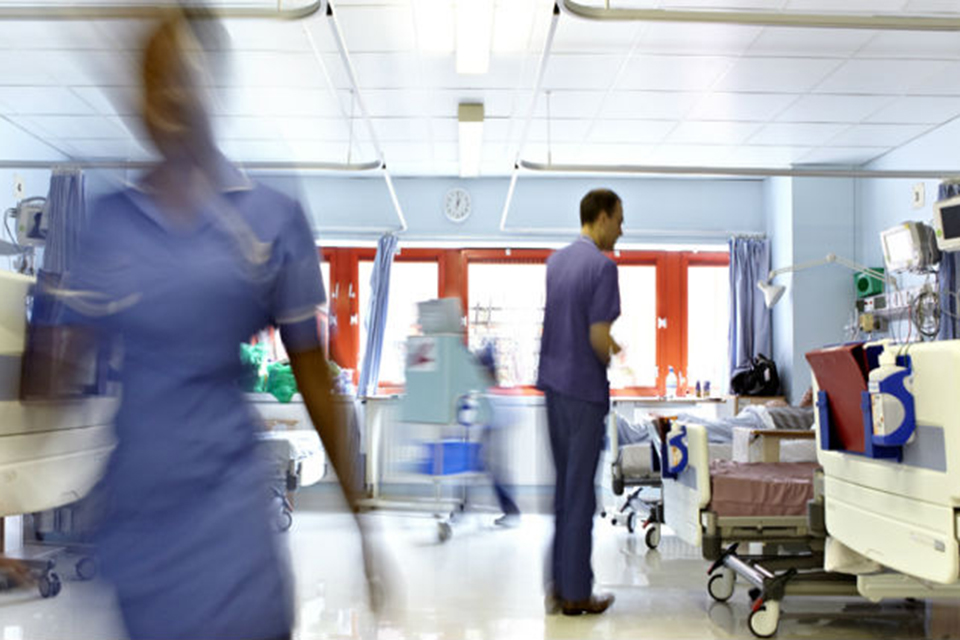 You may have spotted a red briefcase being waved around on the news last week, and that can only mean one thing. The Budget.
So I'd like to take this opportunity to reflect on what the contents of that briefcase will mean for health and care staff.
Firstly, I'm immensely proud that the NHS was marked out as the number one priority for government spending over the next year, and beyond.
Why? Because this historic £20.5 billion funding increase is vital to the government's long-term plan to guarantee the future of the health service.
The Budget explained how some of that £20.5billion will be spent – confirming that at least £2billion of the funding with be spent solely on mental health services. This includes setting up new mental health crisis services, including specialist crisis teams for children and young people across the country, along with mental health support teams in schools. It will give staff the resources to continue to deliver life-changing support to patients, and spot the signs of mental illness early for children and young people.
Not only is it welcome news to those of us who have relatives, friends and colleagues who have experienced mental illness – as many of you have raised on this platform – it also shows how important it is to ensure staff and our healthcare systems are equipped to provide the help people need as part of the long-term plan.
Social care funding also got more support with local councils to be given £650 million. Of this, £240 million is for adult social care to make sure more people can leave hospital when they are ready, into a care setting that best meets their needs. The remaining £410 million will enable local areas to improve their social care offer for older people, people with disabilities and children. While there is still more to do on social care, this is a positive first step, coming ahead of the green paper later this year.
There was also funding for specific parts of the health sector.
A Defence and National Rehabilitation Centre in Nottingham will receive £70 million to fund services for non-military patients. This will mean that the public will benefit from the resources of an internationally recognised medical rehabilitation and research facility.
£10 million will also be donated to air ambulance trusts in England. This is excellent news for those of you working as volunteers, or alongside air paramedics, as you know just how essential they are – especially in rural areas.
There's a lot to digest in this budget. But if you take away one thing away let it be this – through the government's long-term plan for the NHS, the health and care sector was given more funding than any other public service.
This is all thanks to the tireless work of each and every member of staff. We know how important it is that you have the resources and support you need to do your job, and care for patients day in day out. And I am committed to keeping it that way and guaranteeing the sector's future.
If you want to know more about the budget check out this helpful summary, and I would like to hear how this new funding might affect your area of work.


NEWS UPDATE ON VIOLENCE REDUCTION AGAINST THE NHS WORKFORCE 
Around one in seven NHS employees have experienced violence in the last year. That is why today, Health Secretary Matt Hancock announced a series of measures to clamp down on violence against NHS staff as part of a zero-tolerance approach.
During a speech to the Royal College of Nursing, the Secretary of State for Health and Social Care announced the first ever NHS Violence Reduction Strategy to protect the NHS workforce against deliberate violence and aggression from patients, their families and the public, and ensure offenders are punished quickly and effectively.
Shocking statistics from the most recent NHS staff survey show over 15% of employees have experienced violence from patients, their relatives or the public in the last 12 months – the highest figure for five years.
The new strategy to be announced today will set out how:
The NHS will work with the Police and Crown Prosecution Service to make sure victims are supported to give evidence and achieve prosecutions in the quickest and most seamless way possible
The CQC will scrutinise violence as part of their inspection regime - and identify trusts who need further support to reduce violence against their employees
Staff will be provided with better training to deal with a violent situation, including challenging circumstances involving patients with dementia or mental health issues
Staff who have been victims of violence will be able to access prompt mental health support
Secretary of State for Health and Social Care, Matt Hancock said: "NHS staff dedicate their lives to protecting and caring for us in our times of greatest need and for any one of them to be subject to aggression or violence is completely unacceptable.
"I have made it my personal mission to ensure NHS staff feel safe and secure at work and the new violence reduction strategy will be a key strand of that."
"We will not shy away from the issue – we want to empower staff and give them greater confidence to report violence, knowing that they will see meaningful action from trusts and a consistent prosecution approach from the judicial system."
The strategy takes into account a number of sensitive and challenging circumstances staff may be faced with when working with some of the most vulnerable patients.
Where prosecution is not the most appropriate result, for example when assaults are carried out by patients with dementia, brain injuries or other mental health conditions, trusts will be supported to improve staff training and access to support. The current training in de-escalation and conflict resolution will be assessed to ensure it it up to date and effective, with improvements made where necessary.
To understand the reasons behind the rise in reported violence, the strategy will include a new system so staff can more easily record assaults and other incidents of abuse or harassment. Trusts will also be expected to ensure every incident is investigated in full and lessons used to protect staff from future incidents.
Plans are being drawn up for violence and abuse data from across the NHS to be reported nationally and analysed so the government and NHS England can determine which staff are most vulnerable to violence and allow for appropriate action to be taken.
The new plans follow the Assaults on Emergency Workers (Offences) Bill, which was recently brought into law by the government and will see the maximum prison sentence for assaulting an emergency worker double from six months to a year.
The new measures demonstrate government delivering on its manifesto commitment to implement robust action against those who target the men and women who work tirelessly to deliver the best care for their patients, at every level of the health service, in every town and city in the country.
UNISON Head of Health and Social Partnership Forum Staff Side Chair, Sara Gorton said: "NHS staff spend their working days caring and saving lives, and their safety should be paramount.
"No-one should be abused, threatened or attacked at work - especially when all they're trying to do is help people.
"It is encouraging that the government has listened to unions and agreed to review measures in place to ensure staff safety. This includes a more joined up approach between the NHS, police and CPS. Anyone who threatens or abuses NHS staff should be prosecuted under to the new law protecting health care workers."
All health and care staff are encouraged to continue sharing their experiences and ideas on the Talk Health and Care engagement portal, to improve the health and social care sectors and their own working environments. The portal was launched in the summer by the Secretary of State and currently seeks views on six key challenges, including 'working without fear of bullying, discrimination and violence'.
Royal College of Nursing National Officer, Kim Sunley said: "Nurses and health care workers understand their roles aren't risk-free but, to many, it still seems as if the threat of physical violence is a daily reality.  

"These measures are another way to change this for good by increasing the accountability of employers for the safety of their staff and ensuring those who wilfully assault healthcare workers feel the full force of the law. Victims of assault at work have their lives turned upside down and it affects their wellbeing, their families and their livelihood and there's always more we can do to support them."
Find out more about the Health Secretary's announcement here: www.thetimes.co.uk/article/an-assault-on-nhs-staff-is-an-assault-on-us-all-52f2hwp6d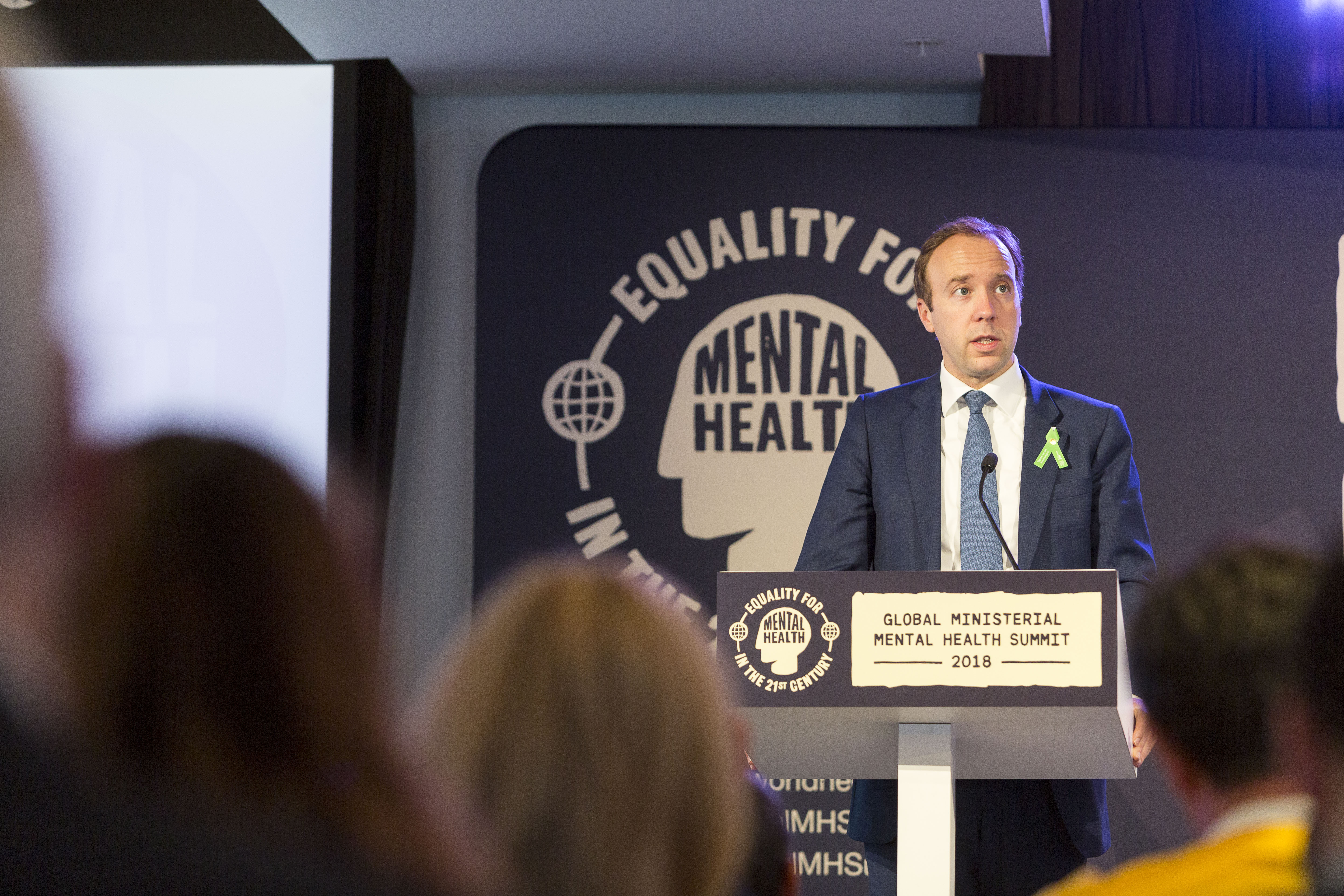 This month, not only did we mark World Mental Health Day on October 10th, but we welcomed delegates from across the globe to the first ever Global Mental Health Summit.

This was a landmark moment to help change the way mental illness is perceived worldwide. More than 40 countries sent representatives to the Summit, and we made a global declaration that mental and physical health should be treated in the same way.

During the Summit I announced an extra £30m of funding for global mental health research. And we announced the creation of the world's first ever Minister for Suicide Prevention, a role being taken up by the excellent Mental Health Minister Jackie Doyle-Price. She will lead a new national effort on suicide prevention to overcome the issues that prevent people from seeking help.
I'm aware that promoting healthy mental wellbeing starts in the workplace. For example, we know many GPs have experienced mental health conditions such as depression, anxiety, bipolar disorder and post-traumatic stress disorder. So we're doing something about it. Simon Stevens, Chief Executive of NHS England, recently announced funding for a new mental health support scheme to prioritise doctors' mental health. The confidential NHS GP Health Service provides support to GPs with issues relating to a mental health concern, including stress, depression or addiction – you can find out more details at www.gphealth.nhs.uk.
There's plenty of advice available on this subject, but if you and your team are facing any issues, mental health charity Mind recently shared some helpful tips on our #TalkHealthandCare blog on how staff can look after their wellbeing.

We're committed to turning the tide and changing the way mental health is perceived and treated. I'd love to hear your views on what more we can do to support you where you work.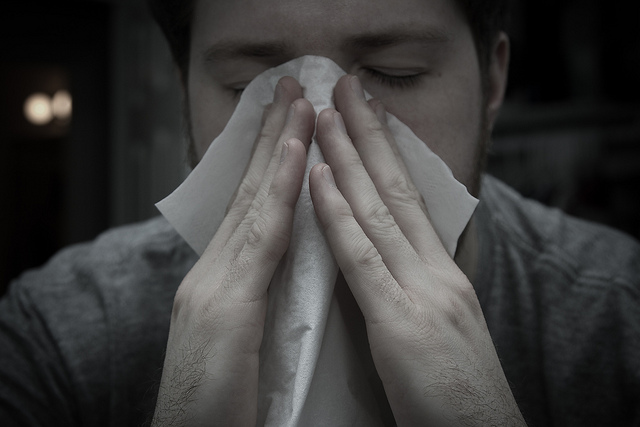 It's the time of the year when health and care services take a collective deep breath – flu season is approaching. We can never predict in advance what's ahead of us.
We're all aware of the risk to patients and the pressures that flu and wintertime together place on the NHS and social care services. Before flu activity begins to increase, it's incredibly important that all NHS and social care staff get prepared to play their part, and a big part of that is staying well themselves.

That's why we want as many staff as possible to sign up for their flu vaccine – which is again being offered to social care staff and this year is also being offered to hospice workers for the first time.  
Fortunately, the vaccine uptake in healthcare workers increased last year from 63.8% to 68.7%, so we're moving in the right direction – but we cannot be complacent. The sad fact is flu kills an average of 8,000 people every year and places huge pressures on health and social care services.
Flu is unpredictable and contagious and up to 50% of people with flu show no symptoms but may still be able to spread the illness. The vaccine is the most effective way to protect yourself and your patients from this potentially fatal illness.  Last year around 80% of flu outbreaks in closed settings took place in care homes – so social care staff have an important part to play in this.
The way the vaccine is administered is led by individual Trusts, but I urge you to read the why it matters page. There are a range of resources that employees in the social care sector can use.
The Department of Health and Social Care has committed an extra £145 million to NHS trusts ahead of winter to improve emergency care. But the vaccine is still our best defence for ourselves and our patients – so we need all staff to do their bit and take their jab.
Last year there were pockets of excellence across the country, but also some areas where staff uptake was very low. If your Trust is doing well or facing any barriers, please let me know in the comments.
Find out more from the NHS Employers website, which includes digital resources that can be downloaded, including: campaign planning guides, evaluation guides and a communication toolkit. 

This blog is an update on the "Assault on emergency workers bill"
Last week the Ministry of Justice announced it will be doubling the maximum jail term for anyone convicted of assaulting an emergency worker. 
The move was welcomed by Health and Social Care Secretary Matt Hancock, who recognised emergency workers have some of the most important and challenging jobs in our society.
More than 17,000 NHS staff were deliberately assaulted in 2015 to 2016. Since then, the annual NHS staff survey reported that 15.2% of the staff who responded say they have been physically assaulted or abused – this is a 5-year high. 
The Royal Assent Bill is a big step towards reducing violence against staff, and helping people feel safe to go to work.   
The Department of Health and Social Care's Simon Goodwin has first-hand experience of the hostility staff can face on the frontline, through his role as an Emergency Responder for the London Ambulance Service.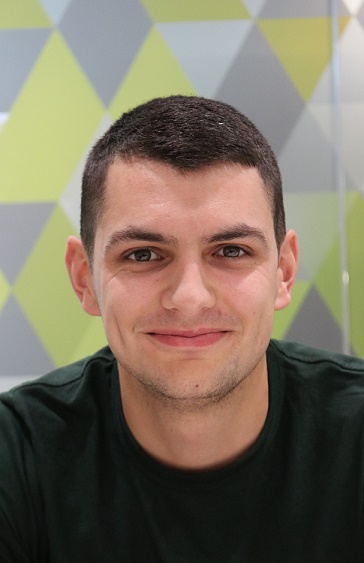 "Sadly, assaults on emergency staff will never be completely eradicated, and spending so much time interacting with patients and families puts those in the 999 family at far greater risk than most jobs," said Simon.
"Having experienced violent and threatening behaviour first-hand, I believe those who make a reasoned decision to attack staff deserve to have the book thrown at them.
"It's good to know myself and my blue light colleagues have a more protected status when it comes to the sentencing of assaults. I hope the publicity around this new Bill will make potential attackers think twice."
If you would like to recieve monthly updates about news from the department, sign up to our emails
Load more